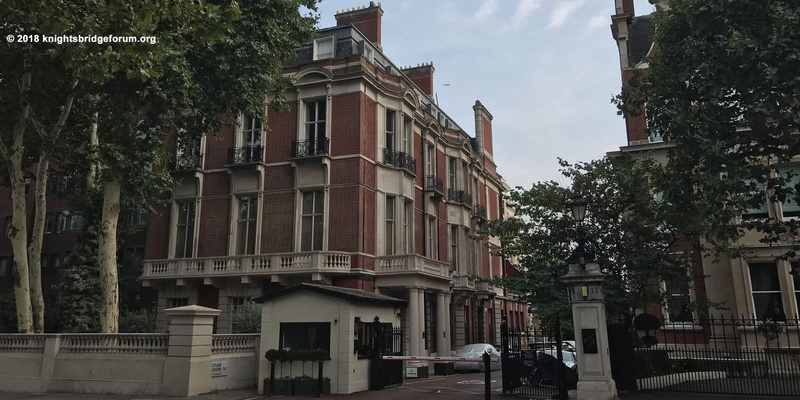 We need your help with the Referendum
Westminster City Council has confirmed that the Referendum on the Knightsbridge Neighbourhood Plan will be held on Thursday 18 October 2018. We are the first of 17 neighbourhood forums in the City of Westminster to reach this exciting stage!
The Knightsbridge Neighbourhood Plan has been developed by the Knightsbridge Neighbourhood Forum over more than three years and after two public exhibitions, two statutory public consultations and a formal 'Examination'. Most importantly, it would support retention of the Hyde Park Barracks and frame any redevelopment there. It would also encourage retail shops and manage cafés, mitigate construction activity, reduce air pollution, maximise the benefits of trees and ensure that at least 25% of developer community funding is spent locally e.g. on measures contributing to a clean, safe and quiet neighbourhood. Read the referendum version of the full Knightsbridge Neighbourhood Plan or a summary of it.
Voters on the local electoral roll in the Knightsbridge Neighbourhood Area would be asked:
'Do you want Westminster City Council to use the Neighbourhood Plan for the Knightsbridge Area to help it decide planning applications in the neighbourhood area?'
If the majority of those who vote in the Referendum are in favour of the draft neighbourhood plan, then the neighbourhood plan must be 'made' by Westminster City Council within eight weeks of the Referendum. A neighbourhood plan comes into force as part of the development plan once it has been approved at referendum. The eight week time limit does not apply where a legal challenge has been brought in relation to the decision to hold a referendum or around the conduct of the referendum.
We need your help to raise awareness of the Referendum and encourage people to 'Vote Yes'. Anyone on the electoral roll whose address is within the Knightsbridge Neighbourhood Area is entitled to vote and already registered. The closing date for registering to vote, if you're not already registered (e.g. new students or soldiers), will be midnight on Tuesday 2 October and the last time to request a postal or proxy vote, if you haven't already, will be 5pm on Wednesday 3 October. You can find out more about voting here. The polling station will be at Kent House Knightsbridge, Rutland Gardens, London SW7 1BX.
Please note that people can be registered to vote in two different local authority areas if they spend roughly equal amounts of time in each. People can only vote once in a UK general election.

Please contact us if you would like to get involved or have any questions. For example, would you be willing to place an A4-sized poster on a notice board in your building or hand out leaflets?

We're keen to hear from you.
****
Key dates in 2018
Midnight on Tuesday 2 October - Deadline for registering to vote
5pm on Wednesday 3 October - Deadline for requesting a postal vote
Thursday 18 October - Polling day (7am to 10pm)
Information and notice published by Westminster City Council
Referendum timetable WCC 030918
Information Statement WCC 100918
Notice of Referendum_WCC_130918
General information on planning and neighbourhood planning WCC 030918
Please note comments made by the Examiner in her final report about Westminster's UDP 'saved' policies and that the Knightsbridge Neighbourhood Plan explains that '...a number of policies in the Westminster Unitary Development Plan (UDP) 2007 have been 'saved' and form part of the development plan' (para 0.3 on page 7).
Key documents and links
Read a summary of the referendum version of the Knightsbridge Neighbourhood Plan here.
Read the referendum version of the full Knightsbridge Neighbourhood Plan here.
Read highlights of the Knightsbridge Neighbourhood Plan 2018 to 2037 here.
Other webpages and information used during the Referendum period
Last updated on 1 December 2018.
This page is no longer updated.