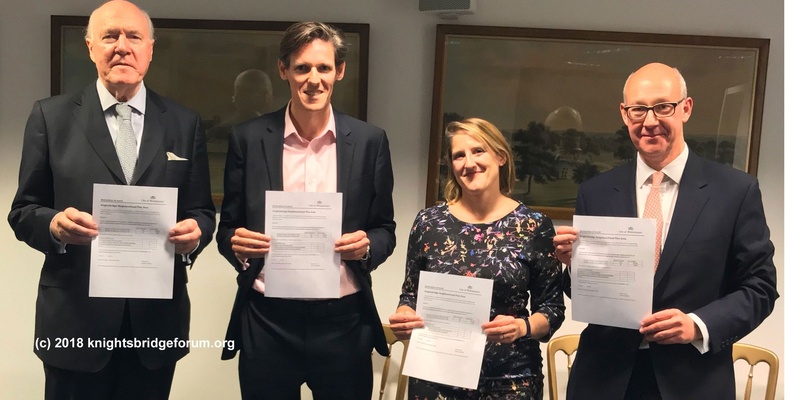 Knightsbridge Neighbourhood Plan
The Knightsbridge Neighbourhood Plan 2018 - 2037 includes policies on a range of matters including character, heritage, community uses, retail, offices, housing, cultural uses, transport and the environment.
In accordance with Regulation 20 of the Neighbourhood Planning (General) Regulations 2012, Westminster City Council formally 'made' (adopted) the Knightsbridge Neighbourhood Plan on 11 December 2018. It is therefore now part of the statutory development plan for Westminster and will be used alongside the council's own planning documents and the Mayor's London Plan in determining planning applications in the Knightsbridge Neighbourhood Area. Prior to being made, the plan was subject to public consultation, independent examination and local referendum.
The Forum has also produced two supporting documents which provide context for the policies in the Knightsbridge Neighbourhood Plan and set out actions that the Knightsbridge Neighbourhood Forum wishes to pursue over the plan period. These are the Knightsbridge Evidence Base Document and the Knightsbridge Management Plan which are published below. The Forum has also published its best practice guidance.
Knightsbridge Neighbourhood Plan 2018 - 2037 (as 'made' on 11 December 2018)
KNP Made version - December 2018
KNP Made version (Summary) - December 2018
Short url for 'made' version: KNP 2037
Best practice guidance
In preparing the Neighbourhood Plan, the Knightsbridge Neighbourhood Forum (Forum, KNF or Neighbourhood Forum) has produced 'Best practice guidance' on matters such as community engagement, construction standards and procedures and Tree Management Plans.
Where this guidance includes matters that relate to planning applications rather than procedural matters, they will be treated as material considerations after a successful referendum. Unlike the Neighbourhood Plan however they do not have development plan status.
The initial collection of 'Best practice guidance' includes:
It may be updated, or other guidance added, from time to time.
Knightsbridge Evidence Base Document
Knightsbridge Management Plan
Developer contributions e.g. CIL monies and other planning obligations
KNP Made version (Developer contributions only) - December 2018
Last updated on 14 December 2018